Try Juice Beauty Products For Free!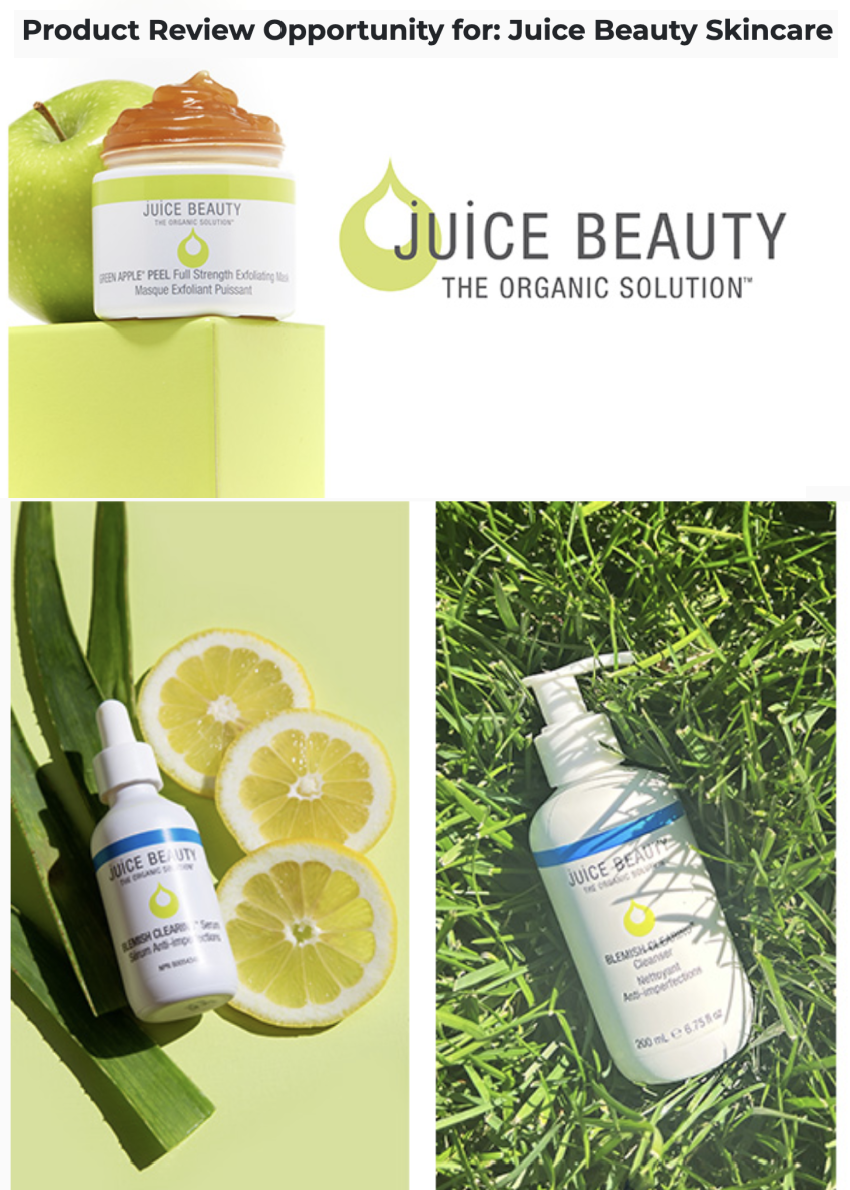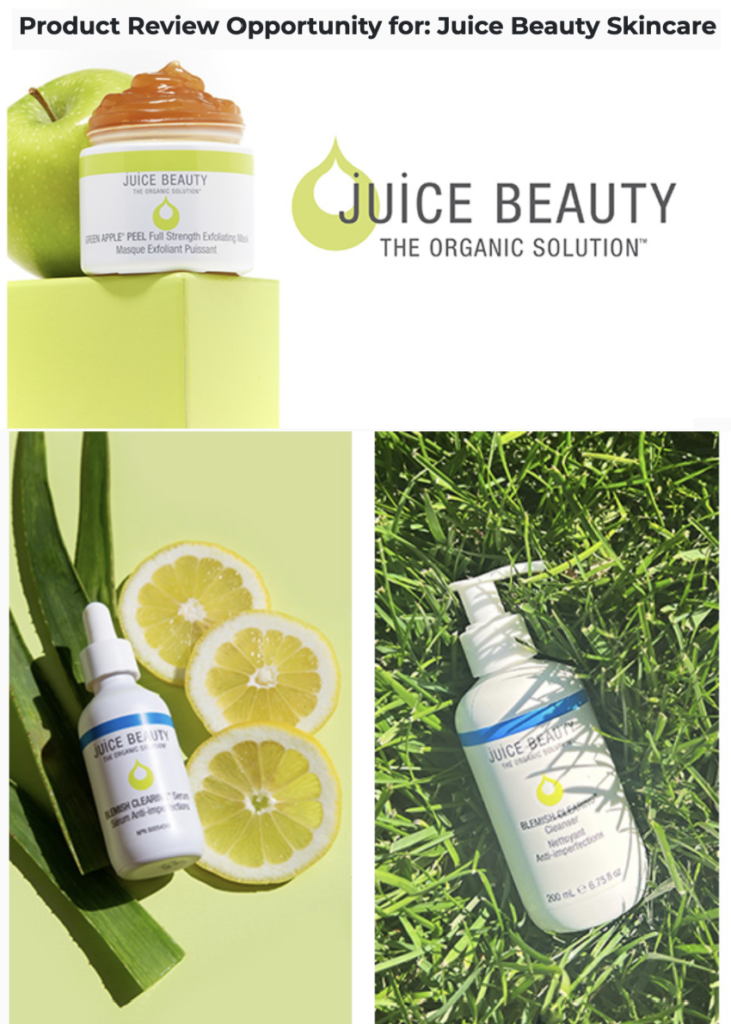 Juice beauty Canada Free Samples
Product Review Opportunity for: Juice Beauty Skincare Fall 2022
Thank you for your interest in Juice Beauty Skincare Fall 2022!
In this exciting opportunity Butterly is looking for advocates to test out and review the following: 
Juice Beauty's GREEN APPLE Peel Full Strength Exfoliating Mask:
Green Apple Peel is an intense spa grade mask
Not recommended for anyone with sensitive skin or rosacea.
Helps even skin tone and texture, and reduces the appearance of dark spots & discoloration with a potent patented dose of alpha hydroxy acids (malic acid from organic green apples, glycolic and lactic acids) and beta hydroxy acid (salicylic acid from willow bark).
Bakuchiol provides a Retin A "like" effect on the skin (note this product does not contain Vitamin A)
Helps fight free radicals with antioxidant-rich grapeseed.
Nourishes and minimizes the appearance of fine lines and wrinkles with two forms of Vitamins C & Vitamin E for healthy looking skin.
OR
Juice Beauty's BLEMISH CLEARING CLEANSER & BLEMISH CLEARING SERUM:
Deeply cleanses with coconut cleansers. Purifies and detoxifies with organic sage, lemon balm and dandelion botanicals. Clarifies with organic lemon & cherry fruit acids. Hydrates with algae and organic aloe.
Reduces breakouts & clears clogged pores with beta hydroxy salicylic acid and naturally derived willow bark. Evens skin tone and texture with organic fruit acids. Helps renew skin with Vitamin C. Fights free radical damage with antioxidant Vitamins B5 & E. Creates a smoother looking complexion with CoQ10. Hydrates & soothes with organic aloe, green & white tea.
Juice Beauty products are formulated without parabens, petroleum, propylene or butylene glycol, sodium lauryl sulfates, pesticides, phthalates, artificial dyes or synthetic fragrances. Our products are never tested on animals.
Please follow the link below, and fill out the short application form in order to be considered for this opportunity. This opportunity is open to residents of Canada only. Selected candidates will be contacted by e-mail in 1-2 weeks.