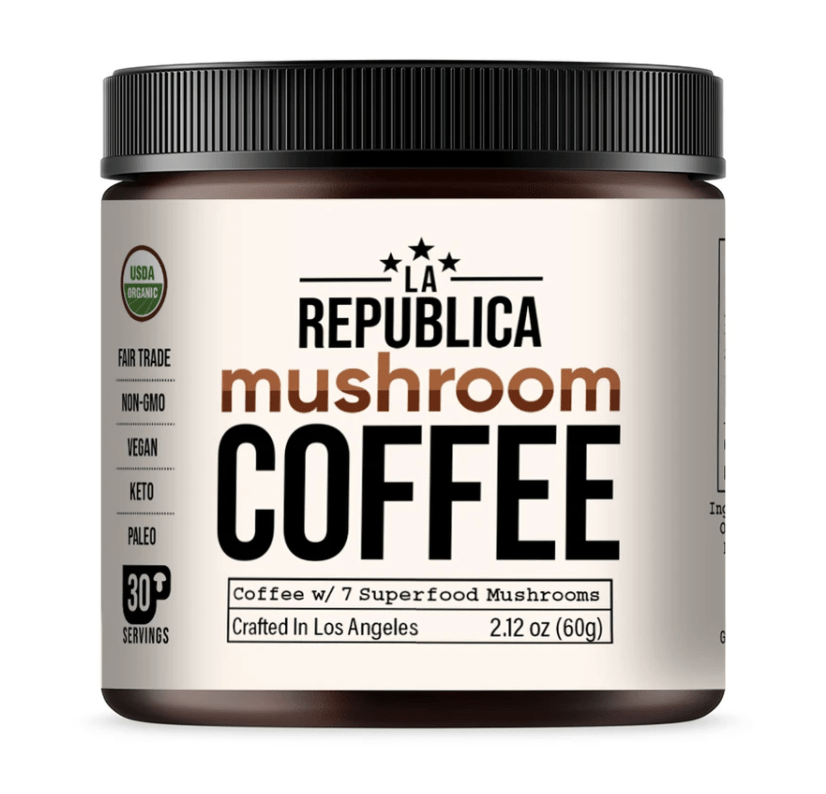 La Republica Free Mushroom Coffee
La Republica is givingawa free samples of their popular Mushroom Coffee! Simply follow the link below, and submit your mailing information, so they know where to send your free sample.
I have been in contact with them to confirm that this offer free sample offer is available to Canada
About Their Mushroom Coffee:
DELICIOUS: This flavorful mix is a favorite among mushroom coffee drinkers; having less caffeine than regular coffee but providing a perfect delivery of clean energy for a focused and jitter-free experience.
PACKED WITH VITAMINS AND NUTRIENTS: A rich source of Vitamins D and E, selenium, beta-glucans, and antioxidant properties known to support immune function and optimal health. It's the perfect way to incorporate highly beneficial superfoods into your morning routine.
UNBEATABLE PRICE: 3X lower than equivalent brands at only .66 cents per serving.
PERFECT FOR ALL DIETS: Vegan, Organic, Dairy-Free, Gluten-Free; no mycelium fillers, never fermented, never grown on oats or rice. Wild harvested and wild cultivated. We use only Whole Fruiting Bodies.
PACKAGING: No waste because we use a BPA-free, UV protecting reusable jar, so none of the critical beta-glucans are lost.
MANUFACTURING: Gold Standard SQF Level 3 facility in Los Angeles.
GROWN SUSTAINABLY: We use only small farm indigenous growers because they form the basis for Fair Trade exchange.
Product Description
Our mushroom coffee is created with these core elements of value:
Therapeutic Value (our superfood elixir is the Coffee of the Future)
Wellness (created to fix the problems created by traditionally processed coffee)
Quality (the highest quality, organic product delivers a more beneficial experience)
Sensory appeal (Dark, rich coffee flavor with the added chocolaty earthiness of the mushroom extracts)
We provide an upgrade to your current habit. The specific mushrooms we use have the unique ability to enhance the flavor of coffee while reducing its harsh acidic nature and the negative impact regular coffee has on our nervous system and adrenal glands. Mushroom coffee also contributes to focus, energy, neural protection, and digestive support, while supporting the immune system and helping us adapt quicker to stressors.
We use whole fruiting bodies (not mushrooms grown on grains and ground together) for their maximum nutritional and flavor profile. Our mushrooms are wild harvested and wild cultivated from the best organic growers around the world.
Priced so there are no barriers to entry at only .66 cents per serving, well below our competition. We believe all people should be drinking this stuff and we have priced it to prove it.
OUR MUSHROOMS MAKE THE DIFFERENCE
These mushrooms are widely believed to help in the following ways:
Chaga — fights the common cold, helps skin glow and hair grow thicker, reduces inflammation
Maitake — improved digestion, weight control, stabilize blood sugar
Cordyceps — better sports performance, increased energy, allergy support
Shiitake — supports liver function, skin issues, cholesterol-lowering
Lion's Mane — boosts concentration and focus, helps the nervous system
Reishi — better sleep, help with seasonal allergies, stress support
Turkey Tail — antioxidants and balances gut bacteria
Mushrooms are some of the most widely studied and longest used antioxidant superfoods. We source only the finest 100% organic mushroom fruiting bodies and use a professional hot water extraction process, for exceptional results!
COFFEE
Our coffee is organically grown 100% Arabica Coffee freeze-dried by an exclusive certified organic process. Our coffee is grown sustainably by small farm indigenous growers who form the basis for Fair Trade exchange.
Product Details
Serving Size: 1 Teaspoon
Servings Per Container: 30
Fair Trade Coffee
Non-GMO
Top Grade Arabica coffee
Vegan
Coffee: 100% Arabica Coffee selected from three continents, freeze-dried by an exclusive Certified organic process.
Mushroom coffee is here to stay and this is why:
People everywhere anticipate their daily morning ritual: an aromatic cup of delicious coffee. But for some, this anticipation is tinged with a mix of sadness because coffee is harsh in its acidity, bitter, and it gives the drinker a volatile energy rush from caffeine.
For them, each morning brings with it many emotions:
Trapped – I feel stuck, I can't live without coffee, but can't live with it, either.
Overwhelmed – I need something to get me going and to perform better, but ohhh that line up at the coffee shop!
Out of control – my coffee delivers a volatile jolt of energy which is abrasive and intense and leads to those dreaded "jitters."
At La Republica Coffee we believe we have the solution that fixes the inherent problems coffee has, and that everyone deserves the peace of mind and well-being that comes from starting each morning with a smooth, safe and sustainable cup of energy and focus.
Ingredients
Organic Arabica instant coffee, organic mushroom extracts of chaga, lion's mane, red reishi, cordyceps, maitake, shiitake, and turkey tail.
Directions
Use 1 teaspoon of mushroom coffee mix with 8 ounces of hot water. Stir and enjoy! Drink to support mental or physically higher states, before meetings or tests, and to achieve your best.
Store in a cool, dark place.
Limit 1 free sample per person, offer valid to residents of Canada & USA