FREE Fasting Days Drink Mix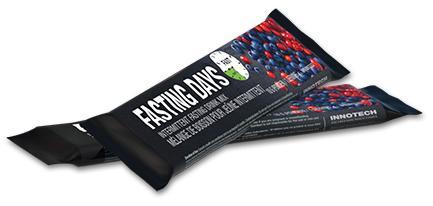 Innotech Nutrition Solutions Canada Free Samples
Innotech Nutrition Solutions is giving away free samples of their Fasting Days nutritional drink mix. Fasting Days makes Intermittent Fasting Easy! It is a powder you mix with water to help get you through your fasting hours. Also a great product for when you have no time to eat. 
Fasting Days is formulated by Reginald Friesen M.D. and Innotech Nutrition to help support Intermittent Fasting with a balanced nutrient fortified powder mix that is mixed into water. It is low in calories, non-GMO, non-dairy and free of sugar, gluten, MSG, artificial sweeteners, artificial flavors and colors. With 10 grams of amino acids, 13 vitamins and minerals including your daily electrolyte requirement, this product helps support the body's natural ability during your fasting hours. Naturally sweetened.
Recommended Purpose: Helps in energy metabolism, to maintain normal blood glucose levels, connective tissue formation, proper muscle function and to maintain normal electrolyte balance.

What is Fasting Days?
Fasting Days is a ketogenic friendly Intermittent Fasting drink mix that helps optimize:
energy and healthy glucose metabolism
high quality collagen formation
hydration and electrolyte balance
bone density
muscle mass
hunger suppression
daily calorie management
Limit 1 free sample per person, while supplies last.