Old-Fashioned Beef Stew with Winter Vegetables Recipe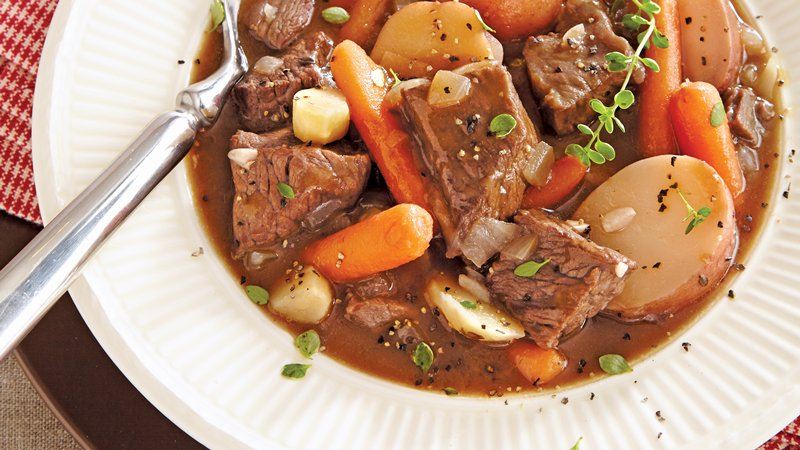 There is nothing like coming home to a hearty beef stew in the cold Canadian winters.  This stew can be made in two stages: Brown and simmer the meat one day; add the vegetables a day or two later.
Serves 8.
Ingredients
2-1/2

lb

(1.1 kg)

lean

boneless stewing beef

, (chuck recommended)

1

tbsp

(15 mL)

oil

3

tbsp

(45 mL)

butter

3/4

cup

(175 mL)

finely chopped

onions

1/4

cup

(60 mL)

all-purpose flour

1

tsp

(5 mL)

salt

1/2

tsp

(2 mL)

freshly

ground pepper

1

bay leaf

1

tsp

(5 mL)

crushed

thyme

1

tsp

(5 mL)

crushed

marjoram

4

cups

(1 L)

lightly salted

beef stock

, or water

8

small

potatoes

8

onions

8

medium

carrots

1/4

medium

rutabaga

, (yellow turnip)

3

medium

parsnips

3

canned tomatoes

, plus 1/2 cup liquid

1

cup

(250 mL)

frozen peas

1/2

cup

(125 mL)

chopped

fresh parsley
---
Preparation
Cut beef into 1-1/2-inch (4 cm) cubes; pat dry with paper towel. In heavy saucepan, heat oil and butter; brown meat one layer at a time. (For a rich tasty stew, it's important to brown meat well at this stage.)
When all meat is browned, set aside. Melt more butter in saucepan if necessary and saut?nion until tender and golden. Stir in flour; continue cooking over medium heat until flour is golden.
Return meat to saucepan; add seasonings (pepper, bay leaf, thyme and marjoram) and stock. Using wooden spoon, scrape up all browned bits from bottom of pan. Simmer, partially covered, until beef is tender, about 1-1/2 hours. Either cool and refrigerate overnight to allow flavours to mellow, or proceed with vegetables.
Peel potatoes, onions, carrots, rutabaga and parsnips. Leave potatoes whole; cut a shallow X in root end of each onion. Cut carrots, rutabaga and parsnips into finger-length sticks.
Chop tomatoes coarsely.
Add vegetables to stew and cook, covered, at moderate simmer until all ingredients are tender, about 30 to 40 minutes. Add peas; simmer 5 more minutes. Taste, adding more seasoning or liquid if necessary. Sprinkle with parsley and serve.