Get $25.00 For Joining Tiktok!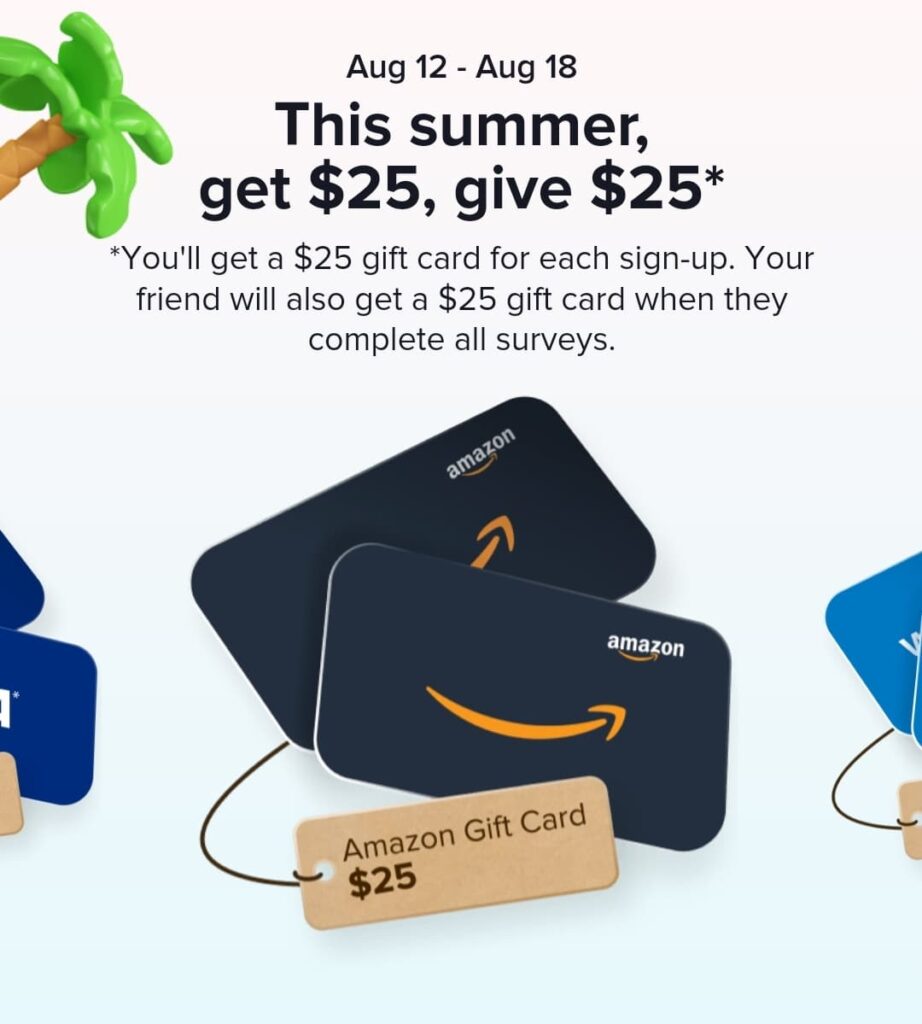 Sign up to join Tiktok, and you will receive a $25.00 gift card of your choice. PLUS, you will get an additional $25.00 gift card for EACH person you refer. There is no limit on how many people you can refer, or how many gift cards you can earn.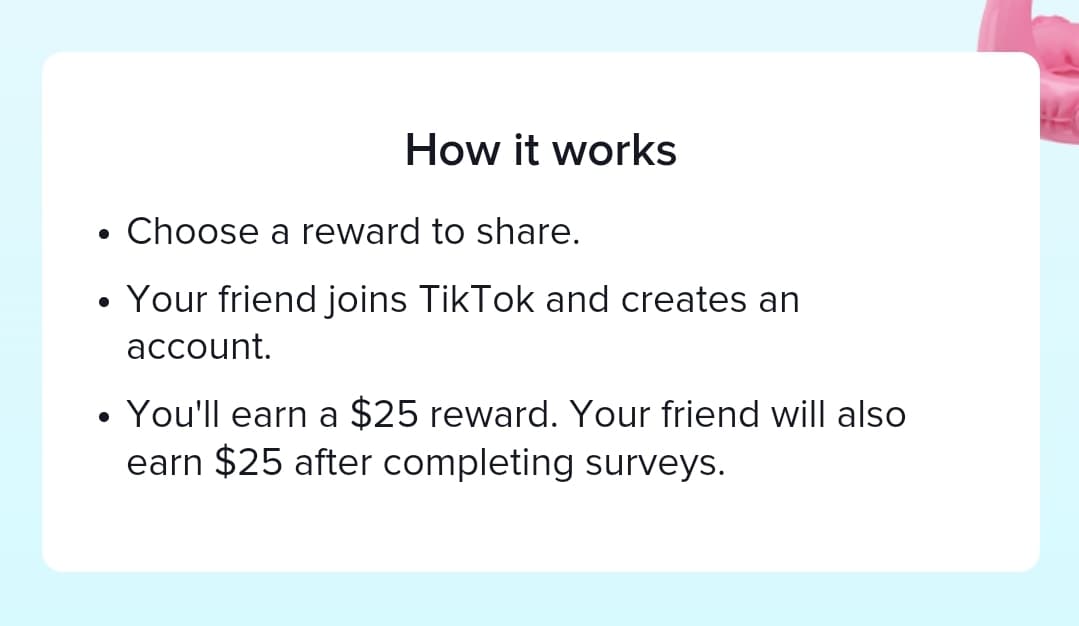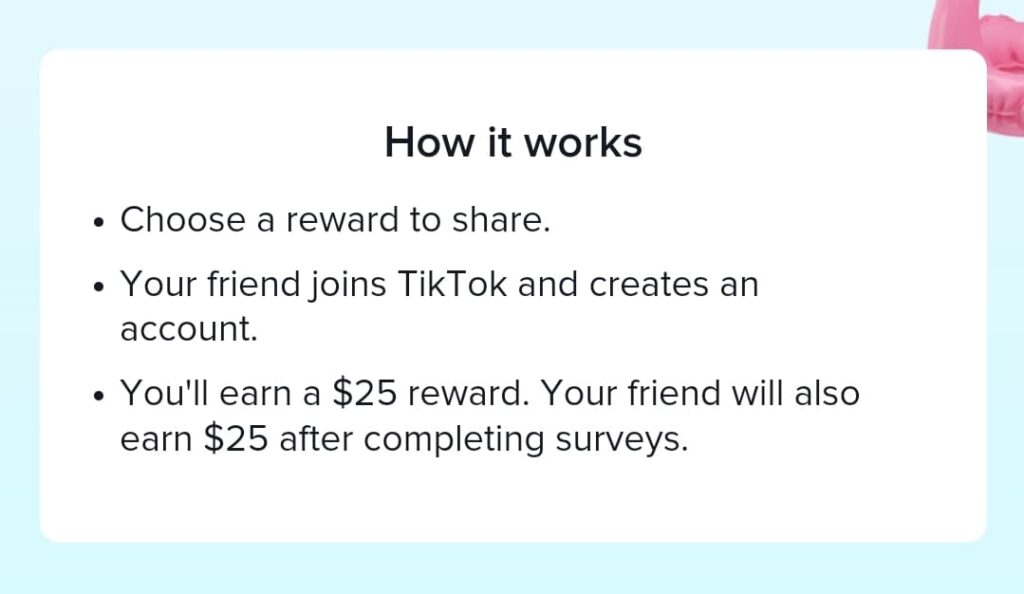 The offer ends August 18, so hurry and sign up.
Use the invite code: AF36737818
Sign Up & Get Your Referral Code Here
If you would like to use my referral code Join TikTok using the invite code: AF36737818
You can redeem points for gift cards or donate to NGOs. Choose from Amazon, Walmart, Sephora, Indigo, Kids Help Phone, and more!
FAQs

1. What is TikTok Rewards? How do I start earning through it?
TikTok Rewards is TikTok's referral program. It lets users earn real-time rewards by simply inviting their friends to join TikTok. To start earning, all you have to do is invite all your friends to join TikTok using your unique invitation code / referral link.
2. Can I participate in TikTok Rewards even though I'm a new user?
Yes! The referral program is open to all our new and old users. However, the program is active in selected countries only. To find out if you meet our TikTok referral eligibility criteria, click here.
3. I am a TikTok employee. Can I still take part in the program?
Unfortunately, employees of the company are not allowed to participate in the TikTok referral program. If any of such accounts are found, they will immediately be restricted from participating in the program.
4.Do I need to have a minimum number of followers or activity time to participate in the program?
No. All you need is a valid TikTok profile and friends who have not joined TikTok. Start inviting and earning!
5. Can I refer a friend who previously had a profile on TikTok but later deleted it?
No. Any user who has ever had a TikTok profile will be considered an existing user and will only be allowed to refer their friends, not join as a new invitee.
6. Can I refer a friend who only downloaded TikTok but never made a profile on it?
No. To be eligible to earn TikTok Rewards, the new invitee should have never downloaded TikTok on their device before.
7. Can I refer someone from a different country?
No. Although this is a worldwide program, users can only refer residents of the same country and not invite people from different countries. This is done keeping in mind the different legal and monetary factors influencing the program.
8. Where can I find my referral link?
You can find your unique referral link or invite code in the activity page of the TikTok app.
9. Why can't I find my referral link?
Usually, every user on the platform should be able to find their referral link in the app itself. If you're unable to find the link, it could be because of a spam account suspicion, in which case, you will be deemed ineligible to participate in TikTok Rewards. You could also be facing some network connectivity issues, which you can check your network and try again.
Worst case scenario, your account could have been disqualified for violating one of our community guidelines.
10. Will my account get blocked if I invite many people to join TikTok on the same day?
No. In fact, we encourage every user to invite as many new users as they can. However, in certain countries such as Egypt, Morocco, and Pakistan, you can only invite up to 100 new users per day. The exact guidelines for your country will be available on the TikTok app.
All new and referred accounts will be monitored for suspicious activity by the risk control mechanism in the app.
11. What if someone makes a new account from an alternate number?
Users creating another profile using their alternative number/email id/phone will be considered a scam account. Such accounts will be barred from participating in TikTok Rewards and will not be able to access the activities page.
12. Why did I not receive the invitation reward even after my friend entered my referral code?
It is mandatory for the new user (your friend) to enter their friend's (your) code into the app within 24 hours of downloading the app. Failing to do so will mean that you both will miss out on the invitation rewards.
However, you can still access the activities page and keep earning rewards based on video watching milestones.
13. How many videos do I have to watch every day to earn reward points?
There is no mandatory number of videos to be watched in a day. Some regions might require you to watch videos consecutively for a few minutes, for example, 3–5 minutes per day. Refer to your TikTok app for your country-specific guidelines.
14. Do I have to watch videos continuously every day from the day I join TikTok?
It would be best if you watch TikTok videos for a few minutes every day to earn rewards as per the current offers on the activities page. Although it's not mandatory to watch it right from the first day, it is preferred for you to do so in order to not miss out on any offers. All tasks will have to be completed within their stipulated time periods for the user to be eligible to win rewards.
15. What if I miss a day in between? Will I have to start over?
No, you don't have to consecutively watch videos to earn TikTok Rewards. However, you do have to complete the video watching goals within the valid days mentioned on the activities page.
16. What can I get in exchange for TikTok Rewards?
TikTok Rewards can be exchanged for money, coupons, or even mobile top-ups. For more details on the exchange value of the TikTok Rewards, head to the Benefits and Rewards page.
17. Can I convert all my TikTok Rewards into money and withdraw them at once?
Yes, but there's a catch. You can only withdraw the full amount in cash if it has reached the final threshold specified in your country. For example, in Thailand, the threshold starts from 10THB and goes up to 100THB.
Now, if a user has 35THB, they can either withdraw 10 or 30THB and continue accumulating more points. However, if they reach the maximum threshold, which is 100THB, the whole amount can be withdrawn in a single go.
18. What is the validity of my TikTok Rewards?
TikTok Rewards are valid as long as TikTok Rewards is active. Users can withdraw from their TikTok accounts at their own convenience.
Although the company doesn't have a set offline date at the moment, if we had to stop TikTok Rewards due to any circumstances, users will be informed well in advance (at least 14 days) so that they can safely withdraw their TikTok Rewards. Kindly keep a close eye on any announcements or notices.
19. Will my accumulated TikTok Rewards expire in the future?
Although the validity of these rewards is currently infinite, in the future, TikTok may impose an expiry date on these rewards as and when deemed fit. In such a scenario, users will be informed well in advance.
20. Why am I unable to redeem my rewards even after accumulating enough TikTok Rewards?
The reasons for this could be that your account has either been disqualified or there is an issue with your payment method. Try e-payment platforms as well as banks. If none of this works, you can either report a problem on the app, send a feedback form addressing your concern, or simply contact us via our country-specific email ids. Click here to view.
21. I am unable to participate in TikTok Rewards. How can I understand what's wrong?
First, check if you are eligible to participate in TikTok Rewards. If you are, please go to the Safety and Warnings page to check if you have knowingly or unknowingly violated any of our community guidelines. If you still haven't gotten your answer, get in touch with our customer service team by either reporting a problem on the app, sending a feedback form addressing your concern.